FEUZ - Entrepreneurship
Entrepreneurial activity is perceived as an engine of social and economic development worldwide, as it leads to the introduction of new ideas and to the job creation. In recent years, the European Union, aware of suffering from an entrepreneurial gap compared with the United States, has reached a consensus that the promotion of entrepreneurship is vital to creating jobs and improving overall competitiveness and economic growth.
There are many initiatives that have been implemented at the national level and in each of the regions. We at FEUZ wish to make our own contribution by supporting teachers with interest in introducing a spirit of entrepreneurship into the classroom. In consequence, we have launched the following initiatives: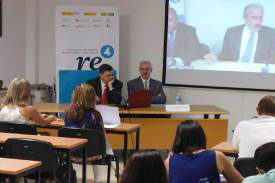 Summer School for University Teachers Acting as Motivators for Entrepreneurship
The Summer School for University Teachers Acting as Motivators for Entrepreneurship is directed at the needs of all university teachers of any subject area who are eager to promote entrepreneurship among college students, particularly those not related to the area of business administration.
The programme is of interest to those who wish to:
Explore new and innovative approaches applicable to higher education
Learn more about actual entrepreneurial experiences
Interact with other teachers and professors interested in promoting entrepreneurship at the university level
Introduce the spirit of entrepreneurship into classroom lectures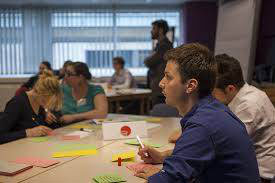 EXPERTIA Entrepreneur
Through FEUZ you may request the participation of an entrepreneur, active in the development of their business, in your classroom in order to present their experience to the students, encouraging through their insights the potential birth of new business concerns and new business initiatives.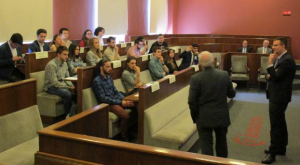 SOCIETY-UNIVERSITY: "EXPERIENCES OF LEADERSHIP"
During the 2017-18 academic year, a pilot experience of this initiative was carried out by the Zaragoza Chamber of Commerce and Fundación Empresa-Universidad de Zaragoza in collaboration with the University of Zaragoza.
A space for exchange between university students and business leaders from different sectors and / or people with high responsibilities in public management, all of them highlighted by their leadership and their contribution to the business sector and society.
Given the pilot nature, the activity was developed in collaboration with four University Centers with a clear vocation for collaboration with the world of business  and five students from each center.
The fundamental aspects of this initiative are:
To know in first person leadership experiences that contribute to improve the skills of students in their professional performance.
To recognize and reward outstanding university students.
To promote the transversality in relations between students and teachers at the University of Zaragoza.
To foster an opportunity for exchange and relationship between the participating personalities and the management of the University of Zaragoza.
Results can not be more successful: students reached their expectations, highlighting the opportunity to interact with business leaders and distinguished teachers of the university, as well as identify opportunities to improve their skills.
For more information, please contact us and we will get in touch with you as soon as possible.