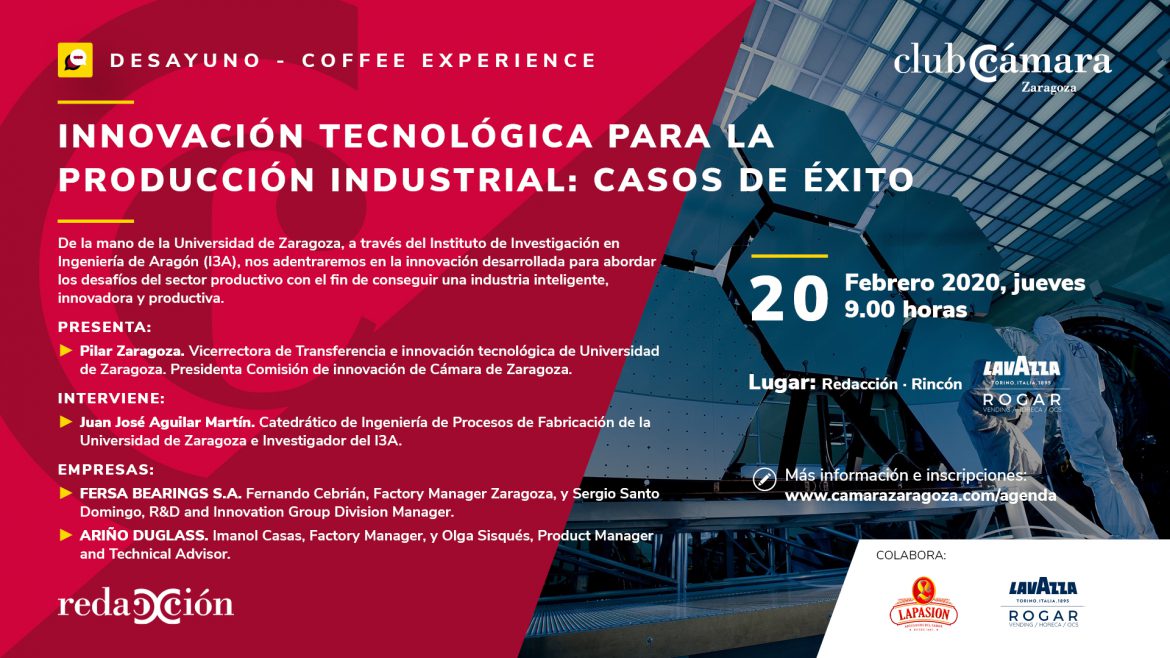 FECHA: jueves, 20/02/2020.
HORARIO: 9:00 horas.
LUGAR: Cámara de Comercio, Industria y Servicios de Zaragoza (Paseo Isabel La Católica, 2. 50009 Zaragoza).


________________________________________________


De la mano de la Universidad de Zaragoza, a través del Instituto de Investigación en Ingeniería de Aragón (I3A), nos adentraremos en la innovación desarrollada para abordar los desafíos del sector productivo con el fin de conseguir una industria inteligente, innovadora y productiva.
PRESENTA:
Pilar Zaragoza. Vicerrectora de Transferencia e Innovación Tecnológica de la Universidad de Zaragoza. Presidenta de la Comisión de Innovación de Cámara de Zaragoza.
INTERVIENE:
Juan José Aguilar Martín. Catedrático de Ingeniería de Procesos de Fabricación de la Universidad de Zaragoza e Investigador del I3A.
EMPRESAS:
FERSA BEARINGS S.A. Fernando Cebrián, Factory Manager Zaragoza, y Sergio Santo Domingo, R&D and Innovation Group Division Manager.
ARIÑO DUGLASS. Imanol Casas, Factory Manager, y Olga Sisqués, Product Manager and Technical Advisor.

Más información e inscripciones

.